Pop Culture Fans Flood Comic Conference in Abu Dhabi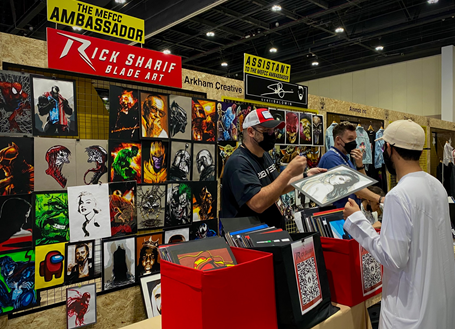 After delays caused by the Covid pandemic, the Middle East and Film Comic Con (MEFCC) opened its doors to all pop culture fans at the Abu Dhabi National Exhibition Center in the United Arab Emirates on March 4-6.
Back for its 10th edition, the event featured workshops, celebrity meet and greets, and competitions for cosplay – or the art of wearing and role-playing costumed TV, video game or cartoon characters. With over 16,000 visitors flooding Artist Alley, many were able to purchase artworks of their favorite characters, as well as custom-made designs, from more than 150 local and regional businesses.
Tariq "Rick" Sharif is a 43-year-old Bahraini-British artist who creates portraits of celebrities and comic characters using blades. Standing near his booth, he invites passers-by, asking them: "Would you like to see my banana?" Once the shock has done its effect, he then points towards a banana taped to his artwork. That is one bold way of attracting attention to his real work!
What was initially a hobby became a profession as Sharif participated in his ninth Comic Con this year. Through his journey, Sharif faced his fair share of artistic insecurities. However, he credits the community for their support and helping him get where he is today. "I love the atmosphere, the support of the other artists getting together and we all come from a creative background. It doesn't matter from which country you're from, you speak the language of creativity and that goes through everything."
Sharif's art process is a constant struggle as blade art is very time-consuming. The artist believes that his mixed background often influences his art. "I get annoyed because it takes too long, but the British side of me says 'patience, take your time,' however, the Bahraini side says I haven't got all day, don't you know who I am?"
Integrating various cultures in artworks does not only come from having mixed backgrounds. Egyptian art director Omniya, 35, opened her custom-made clothing business in 2019. Redefining art, Omniya combines famous Arabic quotes with images from her favorite American movies and Japanese anime. "I love watching anime and DC and I want to bring that to life with my art."
Her personal touch finds a way to reach fans in various ways as she said, "Comic Con has helped me reach other cultures because people who don't even know Arabic, will come and approach the booth because of the Americanized inspirations." She believes in the importance of incorporating Arabic to her designs as it shares a small part of her Egyptian background with the world. "Getting them [the American art] Arabized into an Egyptian style to add a kind of humor to it that makes it special."
The event also hosted a variety of cosplayers. Faris Adnan, a 19-year-old student attending Comic Con for the first time, walked around, wearing the costume of a character from the video game Mortal Kombat. "I came to see the diversity and the different shows and costumes. It's a place for very creative people to really come and share their talents in this no judgment zone."
Different forms of art can be seen at the event. Huda Al Rais, an Emirati ceramic artist and the owner of Pinch & Coil Art Center, found her passion for clay making as a child, and pursued it as an adult after retiring from the air force. "One of my dreams was to work with clay, and mess up my hands in clay. I have to follow these dreams, there is a lot in my bucket list," Al Rais told the MBRSC Post. Her daughters pushed her to open her business in 2018 and this year, she found herself participating in Comic Con for the first time. Al Rais's art ranges from clay mugs to bookmarks. She remains very passionate about her art. "When someone comes to buy my mugs, I feel like they are trying to take away my kids."
Judah Piosejo, 36, attended the event with his nephew Sky. "I think this year's event has the same feeling and energy as before Covid and I think wherever it is, Comic Con is going to be amazing."
Comic Con organizer Ayman Aqili told the MBRSC Post that Covid-related measures were enforced at the event, in line with local regulation. "The convention timed really well with the ease in restrictions in Abu Dhabi. However, we already had placed restrictions on spacing between activities to create social distancing." MEFCC still required UAE nationals and residents to show a green status on the Al Hosn app or a negative PCR test done within 96 hours.