Art Dubai Enters World of NFTs and Digital Art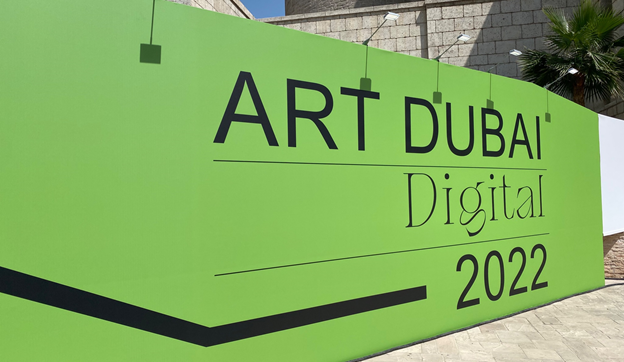 The Art Dubai annual exhibition included for the first time this year a whole section dedicated to works by digital artists. 
  
The March 11-13 exhibition included more than 100 galleries from 44 countries, with the usual sections showing contemporary and modern artworks.  The new section, Art Dubai Digital, featured 17 galleries from various countries, such as Turkey, Azerbaijan, and India. 
 
"Our mission is to build partnerships in the creative field that create positive social and economic impact," Art Dubai Executive Director Benedetta Ghione told the MBRSC Post. "We do this by building communities at our fairs and festivals and providing an international platform for creatives from geographies and regions that are often underrepresented in traditional centers."   
 
As the world shifts more and more toward digital solutions in all aspects of life, the art world seems to adapt and evolve in the digital and NFT realms. NFTs or non-fungible tokens are essentially digital records on the internet that represent ownership of real-world items that are unique like art, video clips, music, and more. NFTs use the same blockchain technology that powers cryptocurrencies, and are available on websites such as Rarible, Foundation, or OpenSea, which is the world's largest and first NFT marketplace, currently valued at more than $13 billion as of January 2022. 
   
During a press conference at the exhibition venue, Art Dubai Artistic Director Pablo De Val explained that "Art Dubai Digital is not a section about NFTs; NFTs are a part of the project, but it's not 100% the nature of what we intend to bring together." Art Dubai seeks to create a project that could become the bridge between the digital and the physical art worlds.   
 
Gazell.io, a London-based digital art house, featured the work of Azerbaijani artist Orkhan Mammadov. His new collection, Singularity in Heritage, included carpets created by artificial intelligence and inspired by pre-Islamic culture and Persian art history.  
 
"He created these works by collecting over 150,000 images of ancient carpets, ancient miniature paintings, and then putting them into a data set system," explained India Price, digital assistant at Gazell.io. "Basically, this is the AI trying to learn and create new versions of what it's kind of explored. So it's a very kind of digitally native piece." 
   
Mammadov's digital artworks were for sale from $200, through QR codes – or machine-readable barcodes that contain information about the item to which it is attached. 
Among the other digital artists present was Raghava KK, with his Power Fluff Toys collection, which was part of Volte Art Projects, a Dubai-based gallery in AlSerkal Avenue. His main digital painting was a fresco showing familiar figures including former U.S. President Donald Trump and Dobby, a character from the Harry Potter series, raising the question "The end?" 
 
"I come from India, and for Indians, when we think of war, we think of the war within, not the war outside," Raghava told the MBRSC Post. "I'm showing at a time when the world is falling apart, what is the attitude we choose, which is humor, we chose play, and these are the toys used." 
Starting his career as a cartoonist for The Times of India, Raghava became the first Indian to launch an NFT at Sotheby's, New York, in partnership with BurningMan – a collaborative artwork using brainwaves, AI and painting robots at Boundless Space.  
 
"For the first time, a digital 3D model can be collected; you don't need glasses or virtual reality headsets,'' he said. "I've been a part of the revolution for about seven years and my idea was when I bring NFTs it has to be different, something physical, it has to be a new encounter.''