When Art meets Food: Reem Gallery and Zaatar w Zeit collaborate for a Unique Art Session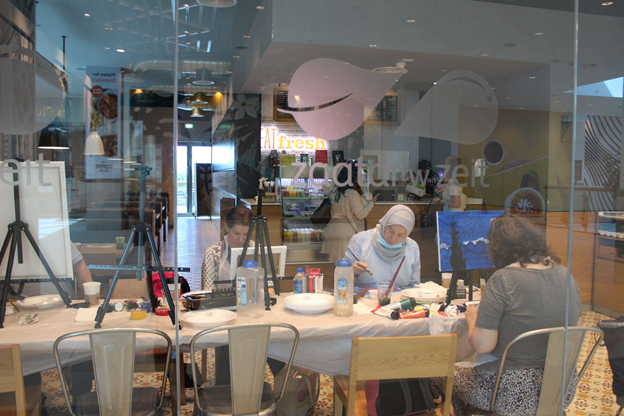 Bounded by the four walls of a studio, artists often lose muse and inspiration to feed their art. Reem Gallery, in an attempt to allow their students and the public to diversify their art environment, held a special event at Lebanese eatery Zaatar w Zeit on Monday.
The event, which was organized at the Spring Souk's Zaatar w Zeit in Dubai, invited the public to a freestyle workshop, where attendees could explore their creativity. "We like to do something to remind people of us, and all are welcome to join, as we are sure that they will have fun in whatever they do," said the founder of Reem Gallery, Syrian Rafah Abdulrazzak, 56, who is a longtime artist herself. Mrs. Abdulrazzak opened Reem Gallery four years ago and continues to aim to grow through forming such events. "It gives us exposure because we are still a small entity and are trying to grow."
Reem Gallery is a Dubai-based gallery in Al Barsha that holds workshops, exhibitions, and unique events. They teach diverse forms of art, including murals, paintings, decoupage, Arabic calligraphy, soap, and flower making. The collaboration has not been the gallery's first, as they previously held some in restaurants like Palestinian-themed Mamaeesh and even entities like the Sharjah Art Foundation and the American University in Dubai. The Gallery targets all demographics, as it holds workshops to the young and old.
53-year-old Armenian Jivan Hovhannisyan, a full-time artist and teacher at Reem Gallery, has been a part of the gallery since its opening. He supports the idea of having such events and further appreciates all the staff and students he has. "It's interesting to have a coffee, eat and paint altogether," he said. "We have talented students, and I am blessed as a teacher to have them; We are all a family."
Zaatar w Zeit, an urban eatery originally founded in Lebanon in 1999, appreciates holding such events. It believes it exposes the environment to new art forms and further strengthens the connection between food and artistry. "While eating, you have a very relaxing environment, perfect for drawing," said Phillipino Jocelyn Marzo, 36, the supervisor at Zaatar w Zeit. "I'm excited to see the effect of the collaboration."
Regulars of all nationalities at the art gallery have also left the studio to join the breakfast, as they enjoy the different vibe it provides. "It's out of the usual and a change of environment," said Mexican Georgina Molet, 55, who is a frequent student at the gallery, visiting three times a week. "It's nice to do something different," added Molet.
Reem Galley's collaboration, although small, showcases how art and culture can be interconnected. As Hovhannisyan emphasizes, "We are always happy to have these types of workshops."