UAE Student Entrepreneurship on the Rise Amid Pandemic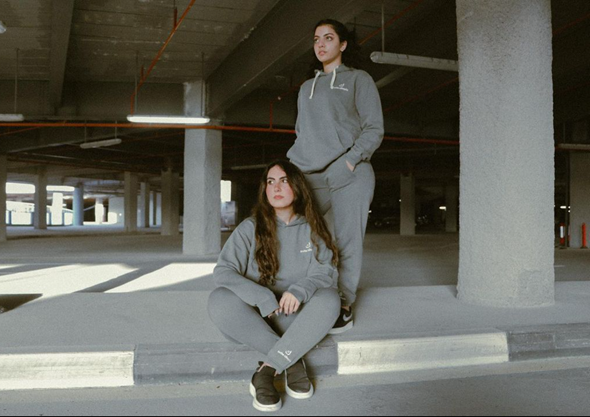 The business ecosystem in the Gulf continues to flourish, with young entrepreneurs taking it a step further as shown in a 2020 Arab Youth Survey which revealed that more than 55% of people aged between 18 and 24 in the Gulf Cooperation Council region plan to start a business within the next five years. That's the highest percentage within the Middle East and North Africa area.
Take QuiteSimple Clothing, a local brand that aims to create unisex trendy and comfortable leisure clothes. Launched in April 2021, the brand was co-founded by 20-year-old Lebanese Nawal Amro and 23-year-old Egyptian Alia Eissa — both senior marketing students at the American University in Dubai. It initially started as a blog and has since become an online store that has produced three collections, set up pop-up stores, signed an agreement with consignment store Dapper Beast and a contract for international delivery with DHL. QuiteSimple Clothing succeeded to build a large customer base despite the challenges of opening during the pandemic.

"People loved to support businesses in the pandemic, we'd get recognition from other customers because we started in COVID-19," said Eissa during a Zoom interview. The founders of QuiteSimple Clothing recommend starting young as an entrepreneur, highlighting the growth in student businesses recently. "It doesn't matter how young you are, age doesn't matter," said Amro during a Zoom interview. They both underlined the importance of a strong self-motivation and the need to carry out a thorough research before starting any business.
A number of organizations in the UAE encourage students to start businesses, most notably Injaz UAE. It was established in 2005, as a member of the Junior Achievement Worldwide, which aims to promote work readiness, financial literacy and entrepreneurship among school and university students.

"We offer a variety of learning programs delivered under a unique model of partnership with the private sector; these volunteer-led programs are designed to help prepare youth in the UAE to succeed in the global economy as young entrepreneurs in the country," Injaz UAE Chief Executive Officer Razan Bashiti said in a Zoom interview.
Injaz, which means "achievement" in Arabic, has trained and supported more than 88,000 students since inception in the UAE. "We celebrate a United Arab Emirates that aspires to become the most "entrepreneurial nation" by 2031, with a business environment that already offers over 10 accelerators and incubators, 100% foreign ownership licenses, and golden visas for entrepreneurs,'' said Bashiti.
One of Injaz UAE's success stories is Hydroot who's CEO and co-founder, Mohammed Junaid, a 20-year-old Pakistani computer science student at the American University in Sharjah. The company joined the Injaz university program in 2020 and participated in the 2021 company program competition, in which they received the Product of the Year award. Hydroot is a business aimed at creating hydroponic kits to enable people to grow fruits and vegetables in their homes. It also seeks to embed farming and healthy eating curriculum within educational facilities to promote a sustainable lifestyle.
Hydroot proved to be a success and even received a license from Dtec, an initiative from Dubai Silicon Oasis – which is designed to help technology startups set up business in the Emirate. With the help of Injaz, they formed the team that helped launch the company.

"The biggest thing that I owe to Injaz is the team that I have right now. They are the ones who made me meet the other three co-founders, and now we are a family," said Junaid in a Zoom interview. He highlighted the importance of having a team that can help divide and balance out the tasks, especially when the team members are busy with their university studies. "If you have a team that has your back, it makes it easier", he said.
The diversity in the student-led businesses that emerged during the pandemic is clear, as it doesn't stop at sustainability and fashion, it also includes projects in fine charcuterie boards. Cheezy Tray, founded in September 2020 on Instagram by 19-year-old Jordanian Sarah Abdallah, is a home business focused on creating various types of cheese boards catering for different occasions. Supported by Fazaa and Talabat and collaborating with many companies, Cheezy Tray has achieved a lot within a short time, with over 100 orders placed since its launch. Inspired by social media, Abdallah has been grateful for the exposure Cheezy Tray has received as a small business. "I've delivered to famous Arab actresses that I would see on TV with my mom, and I've even delivered to a Sheikha within the UAE," said Abdallah in a Zoom interview.
Abdallah said that while the pandemic presented some challenges — including continuous cancellations, supply chain issues and hygiene concerns — it also helped the business grow. She advised young entrepreneurs to stay optimistic in the face of adversity. "Expect failure, but don't give up on it," she said.
With the Arab youth unemployment rate reaching almost 23% in the MENA region in 2020, the growth in entrepreneurship among the youth might be a potential save for young dreamers. And while it does seem like a risk, starting young, especially while studying, proves to be less risky than starting at an older age. "There's nothing to lose; even if you have a financial loss, you can still recover because you're young," said Eissa.
Student entrepreneurship has come a long way in the UAE as many are seeing the potential of young men and women starting businesses. "Student businesses come out of passion; they come out of love and dedication," said Bashiti. "When you give the opportunity to young minds to flourish at an early age, this is where you see the impact and the real difference."