Nabil Anani and The Utopia of a Palestine Without Walls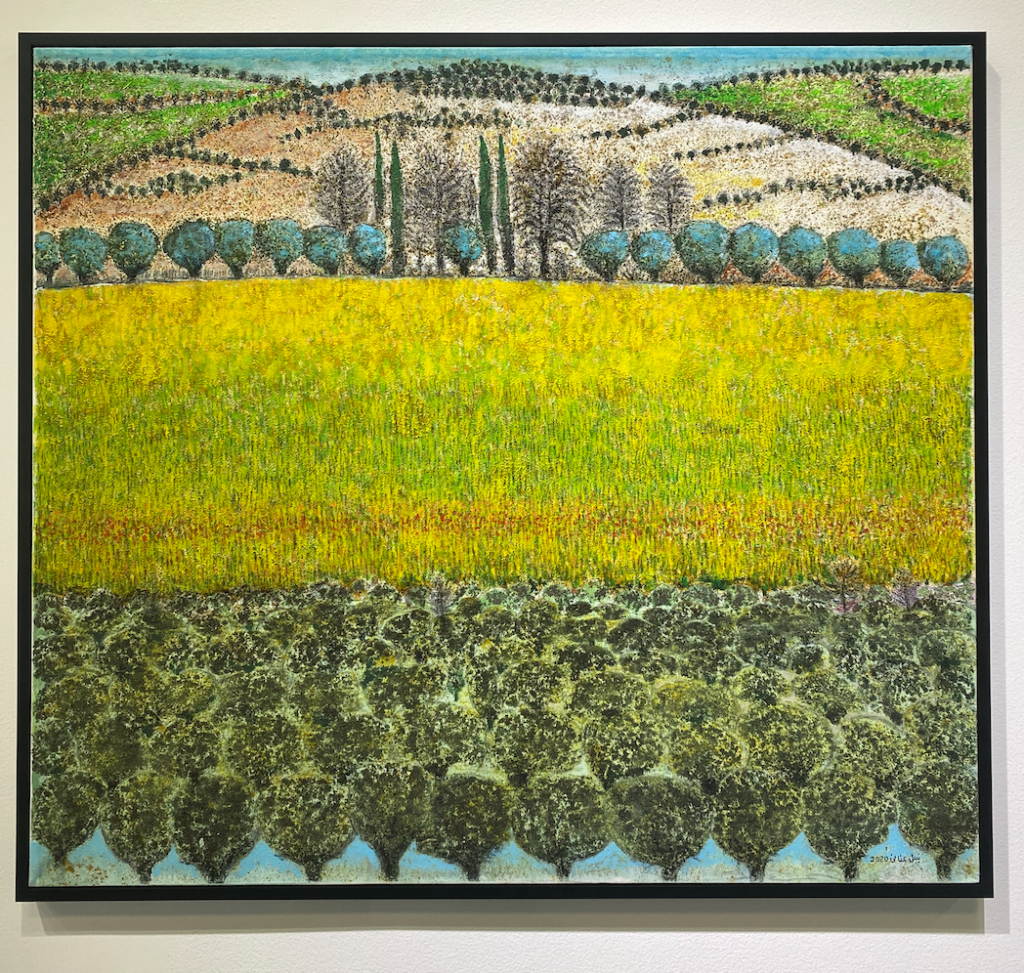 Having grown up in the Palestinian village of Halhoul, located in what is today the Israeli occupied West Bank, Nabil Anani, 78, has preserved the images of what his home looked like back then: a landscape free of walls and security fences. And the artist, one of the most famous in Palestine, has reproduced these images for an exhibition, "In Pursuit of Utopia," which is presented in Zawyeh Gallery in Dubai's Al Serkal Avenue until April 29.
"The natural landscape in Palestine faces an everyday threat of being erased by (Jewish) settlements, bypass roads, and separation walls," told Nabil Anani to the MBRSC Post in a Zoom interview. "I lived my childhood in Halhoul, and I always miss the rural life I experienced there. In the 80's, I drew Palestinian villages, but when I came back to them years later, they changed. They're dominated by settlements and a lot of the old houses were demolished. The landscapes I drew in the 80's are very different now that I want to draw them again," he explained. So he decided to create a Palestine without the walls of the occupation, a utopia inspired by his memories of Halhoul. 
But this is not the first time Nabil Anani's artworks are showcased in the United Arab Emirates as he was part of group exhibitions organized by the Barjeel Art Foundation and Meem Gallery.
For some his artworks, the painter has used spices and other earth elements from Palestine. "When I opened the box containing the paintings after they were shipped from Ramallah to Dubai, it was as if I was standing in a kitchen," explained Ziad.  Some of the spices the artist used were sumac, turmeric, nigella sativa, as well as  blue copper sulfate, and other natural elements. "When I used to go to the spices market, " said Nabil Anani, "there would be piles of different colorful spices, and that would attract me." "I would tell the seller that I want this color and that color, without knowing what the spices were."
As a Palestinian, visiting this exhibition allowed me to experience a free Palestinian landscape that is hard for me to imagine, but yet Nabil Anani was able to deliver it gracefully. His use of natural elements is something worth experiencing in person. And any art and nature lover should definitely pay a visit to this exhibition.