In the Mood for Love – Movie Review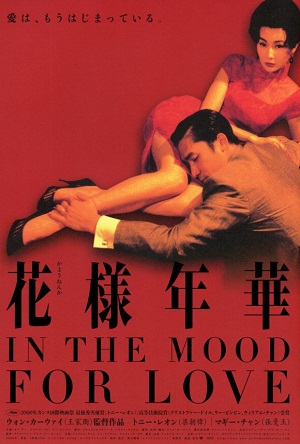 They are in the mood for love, but Kar-Wai Wong's masterpiece does not offer its audience only that. In his turn-of-the-century gem, critically acclaimed, second wave Hong Kong director gives us a film about unrequited, yes, love, but also betrayal, secrets, infidelity, loneliness, and many other universal feelings. It is safe to say that even if some of the subtitles went by too quickly for our mostly English and Arabic-speaking students, some of life's universal fundamentals, reflected in this film, were deeply felt – be it subconsciously or otherwise. Cinematopia hits another home-run with its movie selections.
This week we were introduced to Mr. Chow (Tony Leung Chiu-wai), the mournfully dapper news reporter, who is in the mood for Su Li-zhen (Maggie Cheung Man-yuk) his neighbor, an executive secretary who likes to get dressed up just to go to the noodle stand.
One of the most prominent philosophical reflections of this film was whether these two had the right to break their marriage vows or not. This argument got more complicated when the audience realized that both, Su Li and Mr. Chow, know of their respective spouses' infidelity. Many times we heard dialogue off screen while all we saw were shots of walls; some tattered, some colorful, all hollow.
Aside from the narrative, the film itself resembled a love song. Some of the students at Cinematopia who had nothing to say about the story, had a lot to say about the cinematography, lighting, and overall "mood" of the film.
Safe to say, Kar-wai Wong's spectacle definitely got us in the mood for love, but he also taught us that pursuit of such desires is never as simple as it seems.
In the Mood for Love 8/10