Education in Gaza: Palestinian Women's Thread of Hope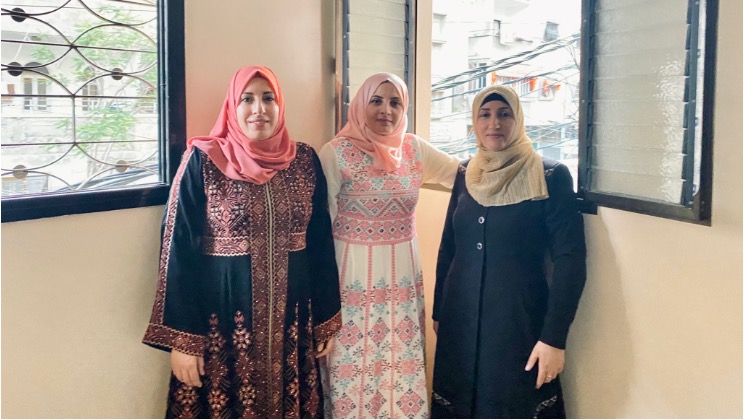 Special report on women and education
Gaza, the narrow strip of land surrounded by an Israeli 'iron wall', is known to its Palestinian residents as an open-air prison. For many residents there, especially women, education has become the last resort for an escape.
"Our children were breastfed by war, they lived through wars, and their childhoods talk about war," said Samah Ghanem, a 42-year-old science teacher working in the Beach Preparatory Girls' School "A", which is run by the United Nations Relief and Works Agency for Palestine Refugees in the Near East (UNRWA).
According to Human Rights Watch, Israeli military attacks, during the most recent clashes in May, killed 260 Palestinians, including at least 129 civilians, among them 66 minors. According to the Gaza Health Ministry, 1,948 Palestinians, including 610 children, were injured. Gaza has been under blockade from both sides of the strip by Israel and Egypt since 2007. It is controlled by the armed Islamic organization Hamas.
Abeer Thabet, political sciences expert and professor in Al-Azhar University in Gaza, explained via Zoom that "female students face two main challenges: the cultural legacy that all the women in the Arab world struggle with, such as the patriarchal mentality and the tribal ideology which stands as a barrier, stopping women from pursuing their dreams. The second is the occupation forces."
As a result of the "occupation, oppression, persecution, and abuse," Palestinians are forced to develop a motive to stay educated. Today, women make up half of the population in Palestine, with 94% of these women being educated and holding degrees.

"In comparison to the Arab world, Palestinian women have one of the highest education rates," said Thabet.
Education however comes with a hard struggle, for every one of them.
Ghanem is one of the volunteer faculty members running an after-school counseling program in Gaza. She explained via Zoom that the sessions were initially due to run over two weeks and be offered to 40 girls who had displayed significant signs of post-traumatic stress disorders as a result of losing family members or the demolition of their homes.
"It is currently extended to up to two months. The 40 students have so far become 120 students, and there are requests for the project to be further extended," she said.

Government-run schools have also attempted to implement similar programs to aid their students.
Nisreen Abadsa, a 42-year-old vice-principal of the Tabaria High School for girls in Gaza, said via Zoom that "the first thing that we did after the war was to identify the girls who showed signs of trauma and enrolled them in a counseling program to help them improve their situations."
Ghanem, who is also the mother of a young daughter pursuing her education abroad, explained, that even for her, "the pressure from the surrounding community was unbearable. "People would ask me how I let my daughter go out on her own. They'd tell me you put your family's honor and daughter's purity in danger and only God knows whether or not she'd return."
Traveling outside the Gaza strip to pursue their education has become a continuous form of struggle for female students in Gaza.
Ghanem's 18-year-old daughter Fadwa, a second-year student studying medicine at Menoufia University in Egypt, had to jump through hoops to reach her goal.
"She really challenged us [her family] all as she was insistent and had an inner certainty that she would enter the faculty of medicine," she said. To avoid backlash from the community, Ghanem hoped to send Fadwa's younger brother along with her to study in Egypt. But unfortunately, he didn't get the required grades. "The problem of my daughter being there without male support remains there, as she is still under the control of a patriarchal society."
Thabet said that the rigid patriarchal system was one of the main causes of the high unemployment rate among women, which stands at about 64%.

Abadsa, the Tabaria high school for girls' vice-principal, explained that many female students apprehend traveling on their own to pursue their dreams of studying abroad. "But after every war, you find many girls being stronger, more persistent and much more resilient to achieve their hopes and dreams."
Thabet said that "a large percentage of women complete their bachelor's degrees in Gaza and then continue their higher education in nearby countries such as Egypt, Sudan, and Tunisia."
Ghanem continues to feel under pressure because she chose to send her daughter to study abroad, but she believes that "in certain moments, you'd tell yourself that you're glad that your loved one is living outside the borders of war."