Experts Call for More Support to Persons with Disabilities During Pandemic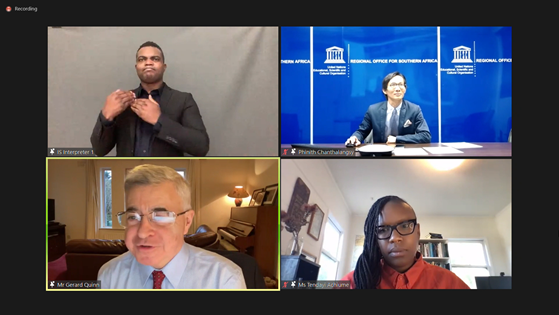 People with disabilities were disproportionately impacted by the COVID-19 pandemic and need more support from states and non-governmental institutions, according to human rights experts speaking during a virtual panel hosted by UNESCO on the sidelines of the 2022 Global Disability Summit.
The United Nations Educational, Scientific and Cultural Organization (UNESCO) had invited several speakers to take part in the February 17 panel discussion, including UNESCO Regional Director for Southern Africa, Lidia Arthur Brito, UNESCO Assistant Director-General for Social and Human Sciences, Gabriela Ramos, and Deputy Mayor of the French city of Paris Jacques Galvani.
"In 2020, UNESCO launched a global call against racism and discrimination, and UNESCO is in the process of developing its global roadmap that looks across these fields, which include inclusive education, development, and mutual understanding," said Brito.
Ramos said that "people with disabilities were the less prepared to follow the mandatory measures that were implemented to control the pandemic''
Almost 80% of people with disability live in developing countries where they often lack social protection, said Ramos. The International Labor Organization (ILO) estimates the number of people with a disability at 386 million people and their unemployment rate as high as 80% in some countries.
In Zimbabwe and Malawi, people with disabilities have seen their income reduced by half during the pandemic and most of them (about 80%) said that they could only afford one meal per day, according to the UNESCO.
"Disinformation campaigns were dominant on the internet via WhatsApp or different platforms" and some of them were targeting "marginalized groups as carriers of the pandemic and all sort of false narratives that I think exposed these groups to vulnerability," said Tendayi Achiume, UN Special Rapporteur on Racism and Racial discrimination.
Gerard Quinn, UN Special Rapporteur on the rights of persons with a disability, said that about 1.5 million people with disabilities are still living in institutions today in the European Union. "I believe it's because most of the governments simply do not see institutionalization as discrimination," he said.
According to Galvani, the Deputy Mayor of Paris, some people with disabilities were forced to live on the streets because of the violence they suffered at home. There are about 180,000 persons with disabilities in the French capital. "In this country, we have a true social policy to fund and support people with disability," Galvani said. Paris is currently renovating areas in the city to accommodate people with disabilities, he said.